What's the occasion?
Whether you're celebrating a baby shower or a wedding anniversary, I've got the cake for you. I create artful cakes for all occasions.
Size & shape
Cakes can be sculpted, molded, layered and tiered. The style of cake can be determined by the traditions of the occasion, the message of the event, the purpose of the celebration or the whimsy of the participants. A distinctive cake should be found at the center. If it's a small party you are hosting, I recommend you go with a sheet cake. For larger parties, such as weddings, tiered cakes tend to be the best choice.
Flavors
I have taken the time to develop my own quality recipes for about 15 different flavors and am capable of working with flavor requests involving many recipes.
1 Butter Rum
2 Chocolate
3 Coconut
4 Spice
5 Marble
6 Lemon
7 Amaretto
8 Sour Cream
9 Snow White
Premium Flavors
1 Carrot: Popular since the 1940's carrot cake is traditionally more dense than most cakes and can be embellished with cinnamon, nuts, pineapple or raisins.
2 Red Velvet:  A high end tradition for nearly ninety years, red velvet cake was the house favorite at the Waldorf Astoria in New York during the Great Depression and famous coffee shop fare in Canada's Eaton's department stores in the 40's and 50's.
3 Poppy Seed: Probably the oldest type of cake in our repertoire, poppy seed cake is defined by the variations that can be accomplished using natural flavor and texture enhancements. My recipe is a particular source of pride.
Filling 
Used to decorate, separate, complement, coordinate or to add distinction, these decisions can be the most fun. I make the best palette in regular and premium flavors and welcome your ideas about what isn't on the list.
If you are ordering a layered cake, you get a filling of your choice.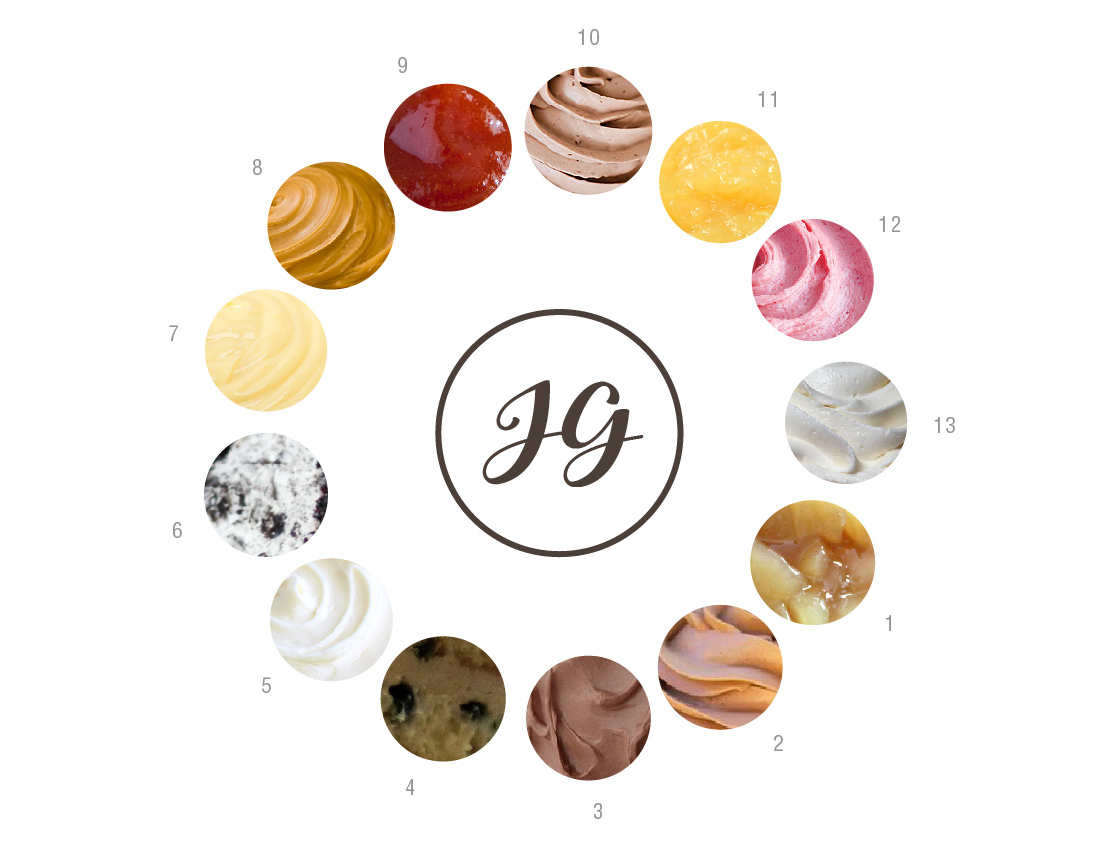 1 Apple
2 Cappuccino Buttercream
3 Chocolate Buttercream
4 Chocolate Chip Cream
5 Cream Cheese Buttercream
6 Cookies & Cream
7 Custard
8 Dulce de Leche
9 Guava
10 Hazelnut Buttercream
11 Pineapple
12 Strawberry Cream
13 Vanilla Buttercream
Premium Fillings
1 Lemon Curd: Gently cooked icing with lemon juice produces a delightfully light and cool taste appropriate to many flavors or combinations.
2 Ganache: Based in chocolate and cream, ganache can be adjusted by liqueurs and extracts to provide exclusively what you want.
Icing
Fondant provides the edible structure to make your cake a work of art. A seriously distinctive cake would involve fondant.